Retrofeet / Sandals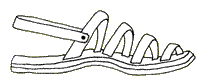 Those sturdy all leather sandals popular in the 1960's are back in style. In this four day workshop you will build two pairs of long lasting, custom fitted sandals using simple tools and equipment. We will focus on fine craftsmanship and good design.

After taking this class you should be able to continue making sandals with a small investment in tools and materials.
Information covered includes:
measuring the foot

strap cutting

dyeing and edge finishing

sole cutting and wetforming

correct placement of straps and buckles

the use of cement, brass tacks and rivets.
The class (limited to four students) is taught in Gaza's Santa Cruz studio about an hour and a half south of San Francisco. Classes (10:00 am - 5:00 pm) are scheduled for four consecutive days from Friday through Monday.
The $625.00 tuition includes all materials required to construct two pairs of sandals and the use of hand tools and power equipment. Sources for tools, equipment, and materials will be given.
Once we agree upon a date for your class a non-refundable deposit of $400.00 will reserve your space. The balance is due at the first class meeting. Additional information, including a motel list, is available.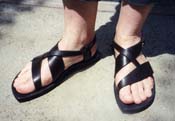 See student work in the gallery.