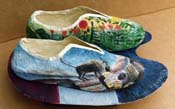 AUTOBIOGRAPHY
half-day workshop
Maximum # of students: 25-30

QUICK AND EASY SHOE SCULPTURE -

This is a quick, exciting, can't fail project that has a lot of potential despite its simple appearance. The project uses an existing pair of shoes as a positive mold around which to build a sculpture. The shoes are not harmed in any way and do not become part of the sculpture.
We will start by choosing shoes that have some meaning in our lives or ones that have an intresting shape. We will incorporate photos, poems, sewing notions, flowers, leaves or any collage-able material onto the surface of the sculpture. By juxtaposing the type of shoes with the message in the surface materials the sculpture can be humorous, personally poignant, socially relevant or just plain gorgeous.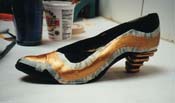 RESTYLING EXISTING
FOOTWARE FOR
THEATER
two day workshop
Maximum # of students: 20

RESTYLING EXISTING FOOTWEAR FOR THEATER

This two day workshop opens up the possibilities of using an existing shoe as an armature on which to build a new shoe with a totally different look. Participants learn both simple and complex methods of modifying the look of existing shoes. Working with suede or fabric shoes or boots, we will reshape the heel, change the look of the upper fabric and redefine the shoe's topline. You can change the look of a conventional everyday shoe into a classic 1910 court shoe, a 1940's spectator or a shoe of your own design.
Included is a lecture on the evolution of shoe fashion with emphasis on silhouette, toe shape, and topline.