Making Mules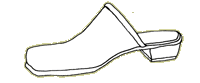 Gaza's MAKING MULES workshop offers the opportunity to build a pair of leather lined fabric mules in four days and one evening.
Mastering the process of shoemaking requires practice, attention to detail, and time. By focusing on a relatively simple shoe style--the mule or slide--you can begin to learn those skills in this introductory course.
Each student will be provided with a pair of lasts (shoe forms) for use during the class. The shoe uppers will be constructed of upholstery fabric, lined and bound with leather, soled and heeled with rubber.
After taking this class you should be able to continue making mules on your own with a small investment in tools and materials.
Information covered includes:
measuring the foot

choosing and customizing the last (shoe form)

upper cutting and binding

elementary sewing

lasting (forming)

inserting a toe box (stiffener)

making and attaching outer soles

building a heel of the proper height and balance

use of hand and power tools

sources for all materials.
The class (limited to four students) is taught in Gaza's Santa Cruz studio about an hour and a half south of San Francisco. It begins on Thursday evening at 5:30 and continues through Monday.
The $650.00 tuition includes materials and supplies for one pair of shoes and the use of hand tools, equipment and machinery. Once we agree upon a date for your class a non-refundable deposit of $400.00 will reserve your space. The balance is due at the first class meeting. Additional information, including a motel list, is available.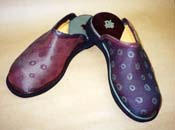 See student work in the Gallery.