SHOEMAKING INTENSIVE II offers the opportunity to build a second, more complicated pair of fully lined leather shoes in six days. These will be lace-up gibsons (oxfords) with tongue, backstay and toe cap. Attention is given to a solid understanding of the pattern drafting process and further development of fine craftsmanship and traditional skills.

These shoes require a rather complex pattern drafting procedure which results in a five or six piece pattern. After customizing your last and constructing the leather upper and lining, you'll repeat many of the processes of construction you learned in INTENSIVE I. There are a surprising amount of design options within the limits of this shoe and you will be making many choices as to the final look of your shoes.

Information includes:
measuring the foot
choosing and customizing the last (shoe form)
pattern drafting
upper cutting (clicking)
more knife sharpening practice
skiving and sewing (closing)
forming (lasting)
toe box and counter stiffener construction
making and attaching outer soles
building a heel of the proper height and balance
use of hand and power tools
sources for all materials
a survey of various methods of construction

The class, limited to three students, is taught in Gaza's Santa Cruz studio about an hour and a half south of San Francisco. The six day class is scheduled for three two-day weekends or two long three-day weekends. We'll be working from 9:30 am to about 5:30 PM.

The $1200.00 tuition includes a workbook, the use of lasts, hand tools, power equipment and all materials used in constructing the shoes. Sources for tools, equipment, and materials will be given.

Once we agree upon a date for your class a non-refundable deposit of $700.00 will reserve your space. The balance of $500.00 can be paid at the first class. Additional information, including a motel list, is available.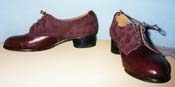 See student work in the Gallery.