Details / Sandals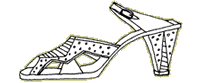 This five day class offers two unique opportunities: an in-depth study of decorative leather techniques and the construction of one pair of high heel sandals incorporating many of these techniques.
We will use colored kidskin to construct a 'sampler' of techniques, including plaiting, weaving, inlay, overlay, reed embossing, knot tying, edge finishing, piping construction, tooling, etc.
Prerequisite: RETROFEET/SANDALS; SHOEMAKING INTENSIVE; MAKING MULES or proven experience making shoes and working with leather.
Information covered includes:
measuring the foot

designing for proper fit strap construction;

use of buckles

making and attaching inner and outer soles

building a heel of the proper height and balance

use of hand and power tools

technique sampler

sources for all materials.
The class (limited to four students) is taught in Gaza's Santa Cruz studio about an hour and a half south of San Francisco.
The $950.00 tuition includes all materials required to construct the sampler and one pair of sandals; the use of hand tools and power equipment. Sources for tools, equipment, and materials will be given.
Once we agree upon a date for your class a non-refundable deposit of $600.00 will reserve your space. The balance is due at the first class meeting. Additional information, including a motel list, is available.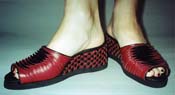 See student work in the gallery.